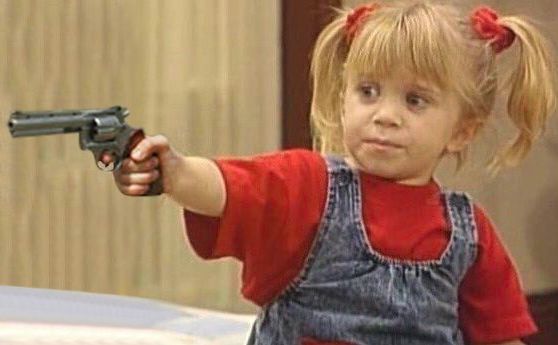 Not actual child in story. I think it's one of the Olsen kids.
Courtesy of
Newsweek
:
A pregnant mother of two is in critical condition after she was shot by her 3-year-old daughter, who picked up her father's gun inside her car.
The mother, 21-year-old Shaneque Thomas, was parked outside a Plato's Closet thrift store in Merrillville, Indiana when she was shot from behind by her young daughter.
Police said the father, Menzo Brazier, left the legal but loaded 9mm handgun between the console and the front passenger seat after he left the vehicle to go inside the store, reported WMAQ-TV.
The child is then said to have climbed over from the backseat and reached to pick up the gun before accidentally firing, hitting her mother though the upper right part of her torso.
It's a good damn thing that bullet did not hit the fetus, because that is the only thing that would convince the Republicans to do something about gun violence in this country.
Men, women, and children can die by the truckloads and the Republicans could not, and do not, care one little bit.
But abortion, even bullet abortion, is one thing they simply could not handle.
Of course their solution would almost certainly involve some kind of maternity size bullet proof tummy shield, but at least they would have to weigh in.
The 2nd Amendment, causing death and mayhem for over two hundred years.